By Gene Kira, Sept. 16, 2002, as published in Western Outdoor News:
Last week, the Sea of Cortez town of Santa Rosalia, Baja California Sur, Mexico, created a new tourist category for itself by hosting what may have been the world's first and only fishing tournament for squid--as in giant Humboldt squid.
To tell you the truth, this tournament isn't quite up to Bisbee's standards yet--in terms of prize money--but it's got a lot of potential, amigos.
Santa Rosalia, for some reason, has become Baja's supreme capital of commercial squid fishing, and it now has about 1,200 pangueros working at it, according to the municipal town government. Each panguero catches an average of about 225 pounds nightly, which comes to a grand total of about 250,000 pounds brought into the town's three processing plants every night. That's a bunch of calamari dinners, anyway you slice it.
This has been going on for the past ten years, and if you ever drive past Santa Rosalia at night, the thousands of lights on the working pangas make it look like there are actually two cities at this point on the Sea of Cortez, one on land, and another about a mile out on the water.
In fact, Santa Rosalia's pangueros catch so much squid they have glutted their market. Their Asian buyers used to pay as much as 6 pesos per kilo, but recently the price is down to about 1.7 pesos, or only about 9 cents per pound. For a night of this wearing, potentially dangerous work, the individual panguero makes anywhere from about $15 to maybe $30 if he's lucky. That buys a few bare necessities and just enough caguamas of cerveza to get through the day and do it all over again the next night. It's pretty tough work for these guys, and not a very good life for anyone, if you ask me.
So last week, as I drove past the old El Boleo smelter and turned up into the town, I was delighted to see a banner above the street proclaiming the new squid tournament. Great idea! This thing is sponsored by Corona Beer and the town government, and it offered a cool thousand bucks in prizes for the biggest Humboldt squids brought in over three fishing days. The entry fee was a very modest 50 pesos (about five bucks).
I spoke with town presidente, Prof. Marco Antonio Núñez Rosas, who assured me this thing was completely legit, with special approval from SAGARPA (squid are not normally allowed to be sport caught), and yes, he was pretty sure it was the world's first and only squid tournament. Most importantly, it was open to any and all Americans who might wish to compete "mano-a-mano" against the town's commercial pangueros!
Although the question had not actually come up, Prof. Núñez felt there would be no problem if gringos wanted to use rods and reels, rather than the traditional hand line. However, it was not known if rods and reels would be quick and strong enough for the larger squids. Working in a panga, in the dark, a 50-pound giant Humboldt squid is not an adversary to be sneezed at. Around Baja, you hear more stories of people being killed by squid than by shark. The awesome squid jigs used are custom made, about a foot long, or even longer.
So there you have it, amigos. If you want to try something truly different next September 2003, head down to Santa Rosalia and compete with the pangueros. Maybe you'll show them a thing or two and win some "big bucks."
Since Santa Rosalia has no sport fishing infrastructure to speak of, I talked to local shipping agent, Lic. Jorge D. Garayzar, direct dial phone from the U.S. 011-52-615-152-0023, agenciag@hotmail.com. Jorge assured me that with a few days' notice, his office could line up any number of pangas for gringos wishing to enter next year's tournament, or if they wish to fish for dorado or yellowtail anytime. (Note: for next year's tournament, I would confirm ahead of time that they again have official SAGARPA sanction for sport catching squid.)
For another truly unique and historic experience, you could stay at Santa Rosalia's very friendly, richly wood-paneled Hotel Frances, so beautifully preserved from the 1880s, but with modern air conditioning, 011-52-615-152-2052. Do not miss the cabrilla machaca, which has been featured in international magazines and is worth a visit in itself.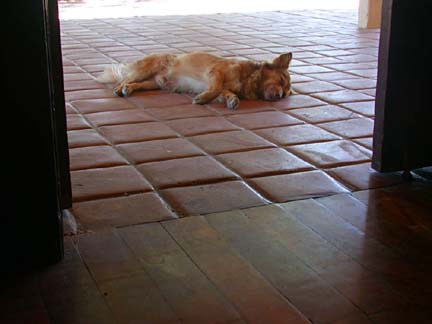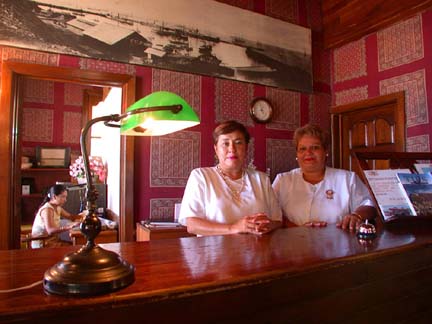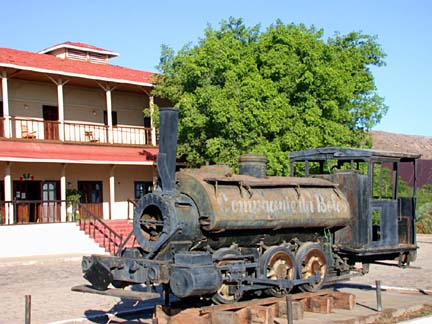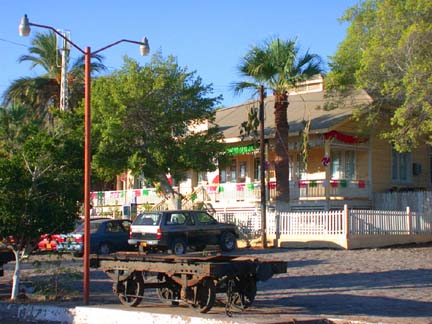 Mexico Fishing Home Page < Santa Rosalia Contents < Report