Santa Rosalia, Mexico:
Yellowtail Going Wild In Fishing On The Isla San Marcos Bajos

Jan. 15, 2005, Mike Kanzler, Isla San Marcos, Santa Rosalia fishing, Baja California Sur, Mexico Report:
The good weather and fishing continued on at Santa Rosalia from last week to the start of this one with great conditions, no winds and flat seas all the way until Wednesday, went winds returned from the northwest to about 15-30 knots. Air temperatures were in the low-50s in the mornings and mid-60s to 70s during the days. Sea water temperatures were up to a high of 65 degrees on some days, but 63 degrees for most of the week, with 35-50 feet of visibility.
The fishing from last Sunday through Tuesday never missed a beat, just as wide open as it could be, with limits on big yellowtail the rule for most anglers!
On Sunday and Kevin Ward, captain of the Searcher, Butch Harris, captain of the Cherokee Geisha, and Alan made the run in Kevin's boat newly purchased from Sid Lindsay's brothers, the Frig-it. They went to the bait grounds and loaded up on a mix of Spanish mackerel and regular ones. They fished at the bajos of San Marcos and found yellowtail holding on the channel side of the reef up current. They took full limits on yellowtail in the high 20-pound range to over 30 pounds in no time at all, while I was watching football at home!
On Monday, I convinced Agustine Casanova of COMSA and Bill Connelly of Dallas to make a run. We did the bait and ran up to the same area that's been producing all those yellowtail. We caught 13 fish and where back at the dock by 11 a.m. The fish where just so active it was hard not to get bit.
Kevin's crew was fishing too and pulled full limits by noon!
The next day with my same crew plus Jorge Rodriguez of Monterrey, Nuevo Leon, we did the same as everyday I've fished here, except for our boat for one reason or another the bite seemed to slow up somewhat. We did get 9 nice yellowtail, but I noted a lot of the boats out weren't even getting bit.
All the yellowtail this week as of last where taken on flylined live bait and heavy iron fished in 150-240 feet. There was not much on the surface.
On another subject, if you ever wonder what I do with down time during windy days, in the past few weeks I was invited to a long time old friend's private message board from back in my days working for the music business in San Francisco.
The board is known as the Dark Lair (SF Metal). These are people from all over the world, and the posts are on nearly every subject imaginable. So now members of this board want to get to know about my totally different life style compared to my life back in those days. I told of the fishing I do down here and of no surprise found a lot of interest. I've gotten more replies and views from one fishing post on Dark Lair than on all the ones I've done on fishing message boards over a year! What's up with that?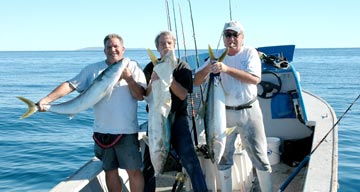 Mexico Fishing Home Page < Santa Rosalia Contents < Report