Santa Rosalia, Mexico:
Winds And Hot Yellowtail Fishing Mix For Local Boats

Feb. 5, 2005, Mike Kanzler, Isla San Marcos, Santa Rosalia, Baja fishing, Mexico Report:
Another great week! Those fish just won't stop biting, and they are getting bigger too.
Late Sunday morning, while I was fishing with a charter, the wind came up and blew all the way to Wednesday. However, up to right now, waters are calm and very fishable.
Air temperatures are in the cool 50s during the mornings, to low 70s for they daylight hours. Water temperatures are still stable at 64 degrees, with better visibility of 30-plus feet. Today, Saturday, saw hard rain fall for about an hour here on Isla San Marcos.
This year's fishing hasn't missed a beat from last year's.
Last Sunday I took a short morning run with Forest Bayer, an old school surfer, from Santa Cruz, Calif. Forest is 72 years young. We did bait off the deep cliffs south of Santa Rosalia, and ran out to the bajos of San Marcos Island. However on this particular day it started to get kind of breezy on the way to the fishing grounds. At the outer bajo, whitecaps were forming up as we started our first drift. We stuck it out to get 2 nice yellowtail for Forest, but during the whole time he was feeling a little queasy and then asked if we could leave and we did, but with dinner in the box.
It then blew for the next 3 days and I had people here wanting to fish most that week.
Luck came through. I picked up my friends Thursday morning. I had Al and his brother Kenneth Johnson of Newport Beach, Calif. The bait was made and off we went to the reefs. We totaled 18 yellowtail in two days of fishing! The fish were on the big side with most fish passing the 30 pound mark and two weighing in at 37 and one 38 pounds. The fish were mainly caught on 2 ounce egg sinker, live jack mackerel rigs, others on no weighted flyline. I was also able to get four fish to bite the surface iron--my favorite!
For better results while fishing my home waters, have at least three rigs ready to go. One 40-pound outfit rigged with surface iron preferably an 8-foot long rod; a 40-pound outfit rigged for flyline bait, no weight just a hook tied to the line; and last a 50-pound outfit rigged with an egg sinker 2-4 ounce, depending on drift. This way you're ready to go, no matter what's up out. I've caught so many fish on surface iron this year because I'm ready. When the fish come up, my lure's on the way!
By the way, leave that Spectra stuff for backing and not main line. You need to have ALL mono line in the water, if you want to catch fish!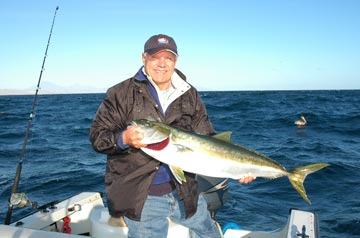 Mexico Fishing Home Page < Santa Rosalia Contents < Report