It was another strange week of early exotic pelagic fishing around Santa Rosalia.
Santa Rosalia had great sea conditions and little to no winds from Monday to Thursday, and warm air temperatures during the afternoons to about the mid 80s. Mornings are still comfortable in the mid 60s.
On Friday and Saturday, Santa Rosalia had a bit of westerly flow, making for less desirable boating and fishing conditions, and it was bit on the cooler side too. Water temperatures in the fishing areas, local inshore and Isla San Marcos, were at 69-72 degrees, and offshore waters at 72-74, with very good visibility in the warmer water of over 70 feet. Inshore visibility was about 25-30 feet.
For three days, I fished with Jerry Bailey and his brother Robbie of San Bernardino, Calif. We started their trip out with two local fishing runs to Isla San Marcos for some of the yellowtail action that's been present there as of late. We took 8 and 7 yellowtail, plus 2 leopard grouper, for the two days fishing there. The yellows ran in that cookie cutter size 20-24 pounds, plus two fish topping 30 pounds. All fish where taken by means of the slider sinker method with live mackerel.
On the third day of fishing, we got a surprise of warmer water in the area and not a single bite of any kind. So as not to end a good run on a bad note, I told them that last week dorado where caught out of Mulege and reports were 30 miles north of there.
I knew that if I ran on a 90 degree heading for roughly 20 miles, I'd end up in the general area.
So made our way out, on just beautiful water, got to the location, and started trolling some small jets. Seconds after that, the first dorado hit, a small female, but a dorado (also mahi-mahi or dolphinfish), first of the season for my area. A bit more trolling and another small cow. Then I saw birds diving in the distance! Once there all hell broke loose with fish everywhere! We immediately stopped trolling and put bait in the water. Larger bulls to about 20 pounds started hitting the deck. We took our limit of six fish for three of us and released many a more. Also saw marlin in the area, we but never got a clean shot at baiting any.
After that day, the word was out at the San Lucas trailer park and Alan Lewis, Kevin Ward, and his buddy Paul wanted in on the exotic action. So I said gas up the boat and we roll tomorrow.
We ran to the numbers I had saved the day before, but you know how pelagic fish are. Nothing going, so put the jigs in the water and a-trolling we go, about another 5 miles out. We started seeing boats out of Punta Chivato trolling about, all of us arriving about the same time. The radios came alive. YELLOWFIN TUNA! Wow! I haven't seen those in a few years here. After about three hours of dragging we got three yellowfin to 20 pounds and a few dorado to about 10-14 pounds, as did most boats that day. Yellowfin, that was great and who knows what's in store for the following weeks ahead.
On my last two days, with bad weather, and I fished with two employees from Georgia Pacific of the Long Beach plant, Pepe Casanova and his boss David J. Neal. It was tough going and we fished hard at both Isla San Marcos and Tortuga. No yellowtail to be had at all. We did troll and got one 10-12 pound dorado for David.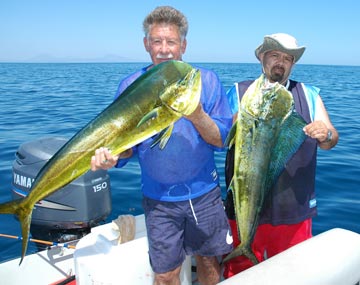 Mexico Fishing Home Page < Santa Rosalia Contents < Report