Santa Rosalia, Mexico:
Some Wind But Good Fishing At Isla Tortuga

Oct. 15, 2005, Mike Kanzler, Isla San Marcos, Santa Rosalia, Baja California Sur, Mexico:
We had another tough fishing week of wind at Santa Rosalia, but a few good days of fishing and all the sad faces go away.
Santa Rosalia fishing weather this week for the most part was windy until just the last two days. However in the early mornings most of the boats were able to get out and fish a little. Air temperatures are changing, with cooler mornings in the mid 60s with days still hitting the 90s. Water temperatures are still 80-83 degrees, with visibility about 30-40 feet.
My first fishing run on Tuesday was in late afternoon, going armed with only iron. I had the captain of the gypsum ship that was being loaded, CSL Trailblazer, Sergiy Marchue his girlfriend Olena Galaychuk and Chief Engineer Valentin, all the way from Odessa, Ukraine.
We fished the ranch with iron for a total of 7 yellowtail, 1 nice leopard grouper, too many greenjack, and black skipjack. It was nonstop action for Olena and her first time ocean fishing. Ha ha, guess who caught the biggest and most fish.
I'm beginning to think that "tuna" is a bad four-letter word. Fishing with Jim and Marika Anderson on the Moosea boat, it started off calm, but for the third time in a row, it didn't stay that way.
We made it all the way down of Punta Conception only to catch one Dorado and 2 Blue Tuna? For weeks now I've been reading those reports coming out of Mulége and been puzzled as to what the hell is a Blue Tuna. I think those guys down there been drinking too many Blue Margaritas and should pick up a fish I.D. book or check the fish I.D. files here on Mexfish. Those fish are SKIPJACK! Not the black ones, but the Pacific side ones you get of the sport boats and chuck back, ha ha!
The best for last.
Fishing on Saturday, I did a Tortuga Island run. I did the bait thing up at Santa Rosalia and had the Moosea boat alongside. I started with the bottom fishing and after two spots had a 23 pound almaco jack and a few leopard grouper, while Jim had caught two nice sawtail grouper of 25 and 33 pounds.
Around 10:00 a.m. Jim and Marika decided to slow troll some live bigeyes for billfish and I still need to try and put a few more fish in my near empty box. I picked up and headed to the Abyss, a place called Punta Auzel off the very far southeast side of the island. The water at this spot is 380-400 feet deep and yes it's a lot of work just reeling up to change bait. I pulled 4 yellowtail in the low 20 pound class before I just got too tired to do it any more.
There where many fishing boats from Punta Chivato in the area and let's just say that Marlin and sails were plentiful.
The fishing waters around Isla San Marcos are also producing many billfish as well. Larry Sobern of Dana Point, Calif., caught a Marlin a little over 100 pounds out of his 14 foot cartopper. Larry Chavez of Redlands, Calif., in his boat "Larry's Toy," did 8 sailfish near Tortuga, and today Julie and Wild Bill Westendorff got a nice marlin too. All these boats are fishing out of San Lucas Cove.
The fishing is heating up and the weather is cooling down.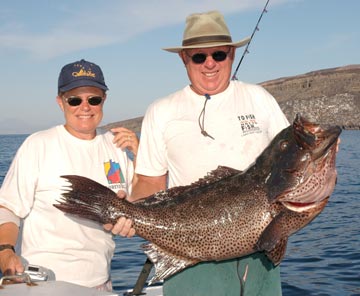 Mexico Fishing Home Page < Santa Rosalia Contents < Report