CABO SAN LUCAS, MEXICO: George Landrum of Fly Hooker Sportfishing said sea conditions were rough on the Pacific side of Cabo during the week, as most boats fished on the Cortez side for steady action on striped marlin around the 95 and 1150 spots. "Very few, if any, boats fished on the Pacific," Landrum said, "as there were extremely large swells and very rough conditions through Saturday." Inshore fishing was also mostly on the Cortez side. Landrum said, "Inshore...all the fish were found on the Cortez side due to the rough conditions on the Pacific. There was a pretty decent sierra bite...Large groups of jacks in the 25 to 35-pound class were spotted close to the beach but they were not very hungry...There was a fair to good bite from bottom species such as red snapper and grouper in 100 to 150 feet of water...and there were some decent yellowtail to 25 pounds...caught by anglers using live bait fished just off the bottom."
In other mainland Mexico and Baja fishing action this week:
ENSENADA FISHING REPORTS
ALL ARTICLES, REPORTS AND FISHING INFORMATION FOR ENSENADA
ENSENADA, MEXICO: Ivan Villarino of Vonny's Fleet said his pangas fishing at the tip of Ensenada's Punta Banda found good counts of bottom fish, rockfish, lingcod, and calico bass last week, plus 4 yellowtail of 20 to 26 pounds caught on jigs by Richard Kubota and Ken Sarawatari of Davis, who fished on Thursday with Capt. Beto aboard the Vonny I. Ensenada weather was at 60 degrees and stormy toward the end of the week, with 3 to 4-foot ocean swells and the water temperature at 57 degrees.
ENSENADA, MEXICO: Judy Ostberg of the boat Melody out of Ensenada's Marina Coral said fishing on Saturday was canceled due to heavy rain and winds over 25 knots.
ENSENADA, MEXICO: Steve Ross of the boat Bad Dog out of Marina Coral reported on an overnight run the previous weekend to fish for giant Humboldt squid at the Banda Bank, producing limits of 30-pound squid for all anglers in hot action beginning about 7:30 p.m. "We set up the Honda generator and plugged in the clamp-on light fixtures on the outriggers and followed up with the squid jigs on tuna sticks," Ross said. "We set out 4 sets of gear at 100 feet deep in 57-degree green water. I began chumming with whole and chunk squid. All 4 anglers were hooked up at all times as the bite went full-speed wide-open for 2 hours on chunking squid chum.
"Soon we noticed that some squid had one of their tail fins missing. After that we reeled up 4 with only the heads stuck onto the lures. And upon inspection at the dock we found most of them had bite marks. Their buddies were eating the hooked ones...We put 21 squid...on ice in 2 hours and quit." Also fishing aboard the Bad Dog were anglers Gail Ross, Juan Lu Cardona-Sepulveda and Marinero Jando Ruiz.
PUERTO SANTO TOMAS FISHING REPORTS
ALL ARTICLES, REPORTS AND FISHING INFORMATION FOR PUERTO SANTO TOMAS
PUERTO SANTO TOMAS, MEXICO: Sam Saenz of Puerto Santo Tomas Resort said some lingcod and cabezon were caught by shore anglers, but all panga fishing trips were canceled over the weekend as much needed rain arrived. "We finally got our first rainfall," Saenz said. "We were under a severe 14-month drought. Some of the cacti were dying off and the quail had to come down from the mountains to feed at the tourist campgrounds. The local wildlife will now be revived. We've gotten about one-half inch of rain over the last 2 days."
SAN QUINTIN FISHING REPORTS
ALL ARTICLES, REPORTS AND FISHING INFORMATION FOR SAN QUINTIN
SAN QUINTIN, MEXICO: Pete Hillis of Pedro's Pangas said he had 4 boats fishing out of San Quintin on Friday for mostly rockcod and lingcod. "The wind and rain blew everyone off the water on Saturday," Hillis said. "I didn't hear any reports of yellowtail or white seabass from the other landings." By Sunday morning the wind and rain had passed completely by and Hillis said, "I expect to do some personal fishing tomorrow morning."
SAN QUINTIN, MEXICO: For the previous weekend, Kelly Catian of K&M Offshore Sportfishing reported a run out of Bahia San Quintin for a good catch of red rockcod on iron, lingcod, and mixed bottom fish with anglers Chris Pierce, Austin Mckeever, Dave Brownarmanian, and Pete Engles, plus an overland surf trip the following day. "On day 2 we loaded up the 4x4s and headed out to find some surf and got some fun waves at a local point break," Catian said. "There was a lot of snaking going on in the lineup, with a few close calls."
SAN QUINTIN, MEXICO: Well-known local angler Julio Meza of San Quintin reported from Punta Arenas, Costa Rica, that he was living the "pura vida" on honeymoon with his new wife, the former Alma Barba of Mexico City and Ensenada, and enjoying 3 days of inshore fishing at Golfo de Nicoya and Herradura for black snook, roosterfish, and jack crevalle with Capt. Kike Aguero and Chico Nunez. Said Meza, "Beautiful weather, lows in the mid-80s and highs in the mid-90s, and great fishing!...We did surf fishing for snook on the river mouths around Punta Arenas, casting little Rapalas into the white water with good results and fish up to 23 pounds...Inshore we...landed and released 16 gallos up to 26 pounds...Great honeymoon!"
BAJA COASTAL FISHING REPORTS
ALL ARTICLES, REPORTS AND FISHING INFORMATION FOR BAJA COASTAL AREAS
BAJA CALIFORNIA, MEXICO: Sal DiMatteo of Torrance drove into the fish camp of Santa Rosalillita on Baja's semi-remote Pacific coast recently and reported the Escalera Nautica marina dredging and rock jetty project apparently stalled and the new marina mostly refilled with sand. "I...saw a sand box that was intended to be a harbor," DiMatteo said. "The pescaderos rolled their eyes...and remain doubtful of this harbor ever being used...From Punta Rosarito to the south to Santa Rosalillita to the north the 15 miles of dirt road along the ocean is in very good condition...We bought beer there at $1 per can for Tecate. I suspect that if you needed any supplies they would be available at a premium price. Fortunately beer was all that we 'needed.'"
MAGDALENA BAY FISHING REPORTS
ALL ARTICLES, REPORTS AND FISHING INFORMATION FOR MAGDALENA BAY
MAGDALENA BAY, MEXICO: Gary Graham of Baja On The Fly reported Magdalena Bay fishing area weather partly cloudy in the low-70s, with water temperatures of 58 to 62 degrees. The San Carlos entrada provided good action on smaller-sized yellowtail, and many California gray whales were present in the bay. "With all the storm activity in California, conditions have been what could be best described at unsettled," Graham said. "The big buzz is still the whales that have been putting on a great show...The water is beginning to slowly warm up in the mangroves and expectations are high that the bite will pick up soon."
SAN JOSE DEL CABO (LOS CABOS) FISHING REPORTS
ALL ARTICLES, REPORTS AND FISHING INFORMATION FOR SAN JOSE DEL CABO
SAN JOSE DEL CABO (LOS CABOS), MEXICO: Eric Brictson of Gordo Banks Pangas reported on 47 combined La Playita fleet pangas fishing off San Jose del Cabo, with a catch of: 410 sierra, 230 Mexican bonito, 120 pargos, 8 striped marlin, 12 dorado, 5 hammerhead shark, 14 amberjack, 8 yellowtail, 14 grouper, 18 pompano, 6 jack crevalle, and 22 triggerfish. San Jose del Cabo weather was in the mid-80s, with some northeast wind to 15 m.p.h., but generally good sea conditions. "The panga fleets continued to concentrate their efforts closer to shore for a mix of Mexican bonito, sierra, pargo, amberjack, grouper, yellowtail, pompano, and other miscellaneous species," Brictson said. "Sierra and bonito were...in the 2 to 7-pound range...The few yellowtail that were landed hit on yo-yos and weighed up to 18 pounds." Top catches for the week included a 65-pound broomtail grouper and 50-pound amberjack by angler Gary Weis of Santa Monica, who fished the Capt. Tony on the super-panga Ginny.
EAST CAPE FISHING REPORTS
ALL ARTICLES, REPORTS AND FISHING INFORMATION FOR EAST CAPE
EAST CAPE, MEXICO: Gary Leeper, staying at Martin Verdugo's Beach Resort, said he was blown off the water before he could fish on Saturday, but East Cape charter boats were scoring good catches of dorado and medium-sized yellowfin tuna in an area of warmer water to the south off Cabo Pulmo and Los Frailes. A few marlin were located off La Ribera in 260 to 300 feet of water. "I can't find any sierra, and bottom fishing has resulted in mostly barrilete with a few bonito thrown in," Leeper said. East Cape weather was in the low-70s, sometimes moderately windy, with water temperatures averaging 73 degrees.
EAST CAPE, MEXICO: Axel Valdez of Buena Vista Beach Resort reported on 11 boats, with a catch including released fish of: 33 dorado, 20 yellowfin tuna, 1 shark, 12 bonita, 15 pompano, and 3 giant Humboldt squid. "The water is cold for us," Valdez said, "but if the dorado are around, who cares if it's cold?...East Cape had some dead calm days, and some days with plenty of wind. We felt the winds starting to change...The end of the winter season is almost upon us."
EAST CAPE, MEXICO: John Ireland of Rancho Leonero reported East Cape weather in the mid-80s and calming toward the weekend after some north winds earlier, with warmer water at 73 degrees moving into the fishing area from the south. "Boats fished all week," Ireland said. Dorado of 10 to 30 pounds, averaging 2 per boat, were caught to the south, plus about 1 striped marlin per boat, about 20 miles out from Rancho Leonero to Los Frailes. Yellowfin tuna of 20 to 50 pounds were also found under porpoise in the same area. Few boats fished inshore, although Ireland said, "Lots of big roosterfish are being sighted, but no takers yet."
EAST CAPE, MEXICO: Gary Graham of Baja On The Fly reported wind-related problems all week in the East Cape fishing area. "Tough conditions for everyone," Graham said. "While today has been fairly calm, the wave action has persisted and the fishing continues to be brutal." Baja On The Fly guides Lance Petersen and Josh Dickenson found "lifeless" conditions on East Cape beaches with limited visibility, and turbid, churned up water. "It's been really dead fishing. Not even the locals have been out there," Petersen said.
EAST CAPE, MEXICO: Eddie Dalmau of Van Wormer Resorts reported wind surfers enjoying the winter conditions, but fishing also possible. "A large school of yellowfin tuna consisting of many fish from 30 to 70 pounds is roaming 25 to 32 miles straight east of the resorts," Dalmau said. "Best luck for billfish is to the south, especially in the area north of Gordo Banks. A good bite for stripers 6 to 10 miles out from Punta Arena was blown away by the north winds, but the fish won't be long to return...The inshore bite seems to be taking a break."
EAST CAPE, MEXICO: Chris Llewellyn of Los Barriles said his wife Debbie landed 2 goldspotted bass and a Hubb's Tilefish while fishing in about 250 feet of water near their home from a kayak, in calm conditions, using cut squid for bait.
EAST CAPE, MEXICO: Ash Pickering of the Vista Sea Sport dive service at Buena Vista said East Cape diving conditions were affected by winds, but calmer days were full of sea life, with water temperatures at a cool 66 to 68 degrees and visibility variable at 10 to 35 feet. "The park remains full of schools of snapper, grouper, grunts, and other fish," Pickering said. "The mobula manta have been seen jumping and playing around on the surface, as have both whales and orca...The trip down to and back from the Cabo Pulmo Marine Park has offered us several sightings."
EAST CAPE, MEXICO: Jorge Bergin of La Ribera noted that a marina project appeared to be underway in the area. "The big news here is about the marina they are building on our beach," Bergin said. "They have fenced off our whole beach and cut a very small access road. There will be a big hotel and later a golf course."
EAST CAPE, MEXICO: For the previous week, Russ Fritz of La Ribera reported a good outing on his panga Soplado with his neighbor Robert Otis and Otis' son and daughter-in-law Jamie Otis and Julie Otis of Long Beach, fishing south to the Punta Arena area with slow-trolled Rapalas for good action on jack crevalle to over 50 pounds, plus some kawakawa tuna. "They fight very similar to a bonito, and are comparable in size and feeding habits," Fritz said of the kawakawa. "Near La Ribera, and I expect elsewhere too, they school in 15 to 60 feet of water, and multiple strikes are common. We have also found them in deeper water, near the black and white porpoise and in the company of barrilete. Their stomach contents often include small glass minnows, immature sardines, young squid, and tuna crabs, or langostinos. I prefer them to yellowfin tuna for table fare, and they make most excellent sushi. The meat is a lighter pink than the yellowfin, more on the order of an albacore. On the grill, they cook quickly, turning a bone white in just a few minutes. On lighter tackle, they put up a very respectable struggle, fighting right into the boat. The ride back to La Ribera was a bit bumpy, but the low tide almost exposed the sand bar, which provided us with a flat calm beach landing despite the wind."
EAST CAPE, MEXICO: For the previous week, Chris Moyers of East Cape Smoke House reported on 54 charter boats from combined fleets including Hotels Palmas de Cortez, Playa del Sol, Punta Colorada, Buena Vista Beach Resort, Rancho Leonero, and Martin Verdugo's Beach Resort, with 159 anglers and a catch including released fish of: 12 striped marlin, 1 sailfish, 45 dorado, 15 skipjack tuna, and 3 sierra. East Cape water temperatures were at 64 to 72 degrees, with north winds and moderate to heavy chop in the afternoons. "Fish counts really took a dump this week," Moyers said. "We can put the blame squarely on the shoulders of the north winds which blew for most of the week." Striped marlin and dorado were caught mostly to the south, and the single sailfish caught was found far south at Punta Gorda near San Jose del Cabo.
LA PAZ FISHING REPORTS
ALL ARTICLES, REPORTS AND FISHING INFORMATION FOR LA PAZ
LA PAZ, MEXICO: Jonathan Roldan of Tailhunter International said that despite seasonal north winds last week, fishing seemed to be better for pangas running north out of La Paz rather than on the south side of the hill off Las Arenas. "Our La Paz stuck close to the islands and structure and got some yellowtail which seemed to be getting larger," Roldan said. "Captains were pleading with clients to bring their own heavy iron for yo-yoing. Snapper and pargo were up tight and close into the rocks." On the Las Arenas side, Roldan said, "a few days were just too blustery to make it worth anything, but on the days we did get out, pargo and sierra were the predominant species."
LORETO FISHING REPORTS
ALL ARTICLES, REPORTS AND FISHING INFORMATION FOR LORETO
LORETO, MEXICO: Richard Spinner of South Pasadena fished March 5-9, 2006, at the Blue Water Tours San Nicolas remote fish camp 30 north of Loreto for an average catch of about 10 to 15 yellowtail per morning on fish of 25 to 30 pounds, and no firecrackers. "Real quality fish," Spinner said. "Making mackerel bait was really easy and it took about 10 minutes to make 20 pieces of bait. We fished the high spot between Punta Pulpito and Isla Ildefonso and were greeted with instant action on fly-lined mackerel and iron. Scrambled egg was the best color. The bite slowed down each day around 12." Other catches by the group included a 7-pound pinto bass, or spotted cabrilla, and 5 leopard grouper caught by Spinner while trolling mackerel around Punta Pulpito. Spinner said he also broke off some fish on 50-pound line, and one boat had a rod holder snap off during a strike: "Some lucky fish is now the proud owner of a Calstar rod and Accurate reel!" Sea conditions were good for 3 of 5 days at the camp. Spinner also fished locally around Loreto, finding poor conditions and slow action.
LORETO, MEXICO: Patty Zapata of the Hotel Oasis said on Sunday, "Even though we have had very windy days at Loreto, some fisherman took their chances and went out fishing for a good catch of yellowtail." Anglers fishing during the week included Charlotte and Jim McMillan, who caught 4 yellowtail on Monday with Capt. Francisco Martinez at Punta Pulpito, plus another 9 yellowtail the following day. Hal Blanchard, Davies Brent, and Davies Brent Jr. fished with Capt. Martin Perpuli at Punta Pulpito and they scored 8 yellowtail on 8 baits. "They went to Las Lagrimas out of Loreto for bait," Zapata said. "It took them more or less 45 minutes to catch the bait and they only got 8. Even though, they ended up with 8 yellowtail between 18 and 25 pounds."
MULEGE FISHING REPORTS
ALL ARTICLES, REPORTS AND FISHING INFORMATION FOR MULEGE
MULEGE, MEXICO: Rick Barber of Mulege said the local run of hot yellowtail action disappeared last week. "We had a front come through on Tuesday and the fish went into total hibernation," Barber said. Before the big drop, Harold Hieter and Gene Simons fished with local guide Capt. Mateo and found 9 yellowtail to 39 pounds near Wilbur's Hole off Punta Concepcion. "Harold hooked and boated 5 yellowtail," Barber said. "He tried to quit after his fourth because he was so tired, but when 3 yellowtail hit at once, he was forced to bring in his biggest fish of the day, a 39 pounder...Both Gene and Mateo lost fish because they were laughing too hard watching Harold struggle with his last fish!" But by Tuesday the fishing had died, Barber said. "Bill Kelly...and his brother Ed...fished hard for 2 days...They did manage to pick up a few blue jacks and other fish but none of the glamor species we've been pulling in the past weeks.
"The rest of the week was lumpy to say the least and the fish just weren't biting. Even my father-in-law who fishes commercially for triggerfish returned with very little to show for his efforts."
SANTA ROSALIA FISHING REPORTS
ALL ARTICLES, REPORTS AND FISHING INFORMATION FOR SANTA ROSALIA
SANTA ROSALIA, MEXICO: Mike Kanzler of Isla San Marcos reported a great week of yellowtail fishing on the bajos off Santa Rosalia last week, with local weather variable from calm to very windy at 30 knots, but still fishable, and air temperatures in the high-60s. Water temperatures were holding at 63 degrees with visibility over 35 feet. Fishing several days at the Isla San Marcos yellowtail bajos north of the island produced good yellowtail counts, including 9 fish in the 22 to 25-pound class by 9 a.m. for angler Doug Moranville of La Jolla, and another good run in heavy wind for Arturo Robledo and Steve Trejo of Downey.
"Things are rolling right along," Kanzler said. "On the calmer days fishing was nothing short of banner." Of the fishing with Moranville, Kanzler said, "We did the usual bait thing up at the haystack and tanked up on bigeyes...On the bajos of Isla San Marcos the commercial pangas were already there working the iron and they were getting a fish here and there...We had 3 great days of fishing...Doug had line fatigue or something, however. He managed to loose 7 fish and got 2. It happens to all of us one time or another, right?"
BAHIA DE LOS ANGELES (L.A. BAY) FISHING REPORTS
ALL ARTICLES, REPORTS AND FISHING INFORMATION FOR BAHIA DE LOS ANGELES
BAHIA DE LOS ANGELES, MEXICO: Ken Jones of Long Beach fished and kayaked out of a remote camp north of Bahia de los Angeles (L.A. Bay) with Brian Smith and Rudy Ortiz, finding slow shore fishing with chrome except for spotted bay bass and triggerfish, plus a sheephead over 10 pounds, some Hubb's Tilefish caught on cut bait, and some blue-and-gold snapper. "The water seemed cold," Jones said. "They just didn't seem interested in anything I threw at them. Winds blew and kept the kayaking down. Camp was attacked repeatedly by ravens and coyotes. Anyone who camps in remote areas of Baja needs to secure their camp against these monsters...The coyotes are now adapt at twisting off a Gatorade cap so perfectly that it screws back on. Amazing. The entire area is brown, brown, brown from lack of rain."
BAHIA DE LOS ANGELES, MEXICO: Travis Hamlin of Las Vegas and his group of 6 anglers fished 2 pangas for 2 days out of Casa Diaz at Bahia de los Angeles for a catch of: 25 yellowtail of 12 to 17 pounds. All but one of the fish were caught on the second day, Hamlin said, in an area along the Baja coast about 25 miles north of Bahia de los Angeles. "Several boats fishing this area did very well on both days," Hamlin said. "Everyone was yo-yo fishing 6X blue-and-white iron." Hamlin fished with Capt. Jose "Bananas" on the charter panga Gordo III. "The boat was $140 a day and a room right on the beach was only $25. I will be back soon," Hamlin said. "The restaurant was not open at Casa Diaz but the general store was. We didn't try to make bait and all the fish were caught yo-yoing in about 140 to 180 feet of water. There were a lot of birds in the area and occasionally you would see them diving on bait, but this was always quite a ways from where we were fishing."
SAN FELIPE FISHING REPORTS
ALL ARTICLES, REPORTS AND FISHING INFORMATION FOR SAN FELIPE
SAN FELIPE, MEXICO: John Tillander of Punta Bufeo, south of San Felipe, reported daily fishing generally slow due to an overabundance of bait fish in the water. "The fish we caught were stuffed with bait fish so they weren't too impressed with our offerings," Tillander said. Catches around Punta Bufeo included yellowtail on pink lures trolled 25 to 30 feet deep, barracuda on Krocodiles 3 to 5 feet deep, spotted bay bass, lizardfish, triggerfish, scorpionfish, pufferfish, and goldspotted bass, locally called goldeneye, caught 90 feet deep on the seamount at the northeast corner of Isla San Luis. Tillander said his catch also included some seagulls and octopus, neither of which appreciated his efforts to release them. Two boats of snorkelers out of Puertecitos did well on snapper and grouper at Isla San Luis. Punta Bufeo weather was rainless and mostly flat in the high-60s, with water temperatures at 68 degrees, and some south wind in the morning, swinging to northeast at 10 to 15 m.p.h. in the afternoon.
SAN FELIPE, MEXICO: At San Felipe, Catalina Meders of the Title Company Bookstore overlooking the bay reported Sunday weather breezy in the high-50s, and the town very crowded for the Baja 250 off-road race. "I have never seen the town so jammed with people and vehicles," Meders said. "There were traffic jams everywhere and driving north past the San Felipe Monument at the arches was a real challenge...This happens every year, of course, but there seemed to be many more people this time. A participant in the race told us there were 350 entrants this year." Meders also noted that the First Annual San Felipe Tequila Festival was scheduled for March 16-18, 2006.
ROCKY POINT (PUERTO PENASCO) FISHING REPORTS
ALL ARTICLES, REPORTS AND FISHING INFORMATION FOR ROCKY POINT
ROCKY POINT (PUERTO PENASCO), MEXICO: Ric Felder of Glendale, Ariz., reported on a run by his boat End Of The Line to the 51-mile bank area the previous weekend, finding flat water, and good action during 3.5 hours of the slack tide for an 85-pound gulf grouper, 13 white seabass of 12 to 40 pounds, 4 goldspotted bass of 2 to 4 pounds, and 1 leopard grouper of 8 pounds. Felder made bait about 15 miles out of Rocky Point (Puerto Penasco), finding about a dozen Pacific mackerel and 100 sardines. Describing the fishing at the 51-mile bank, he said, "Due to lack of wind and current, no consistent drift direction was available, so we did not anchor...On the third spot we drifted over we had a triple hook-up on white seabass!...Then the tide started to come in and gave us enough current to anchor effectively...Then the real action began. We immediately started catching very large white seabass and then the grouper crashed the party...As soon as the current started really moving the bite shut down so we headed in."
ROCKY POINT (PUERTO PENASCO), MEXICO: Shawn Gustafson of Chandler, Ariz., ran through whitecaps and up to 4 to 6-foot swells from Rocky Point to the 51-mile reef on his boat Murphy Girl the previous Saturday, fishing with his wife Tina and 2 family dogs for a catch including 6 white seabass to 25 pounds, 1 red snapper, 2 sheephead, and many goldspotted bass, mostly released. "For 2 hours, on every drop I was hooked up almost immediately," Gustafson said. "Eventually, the fishing slowed a bit and we then started catching lots of goldspotted bass....We stayed at anchor until after 3 p.m. and then started the long trek back to shore...We had to negotiate 4 to 6-foot waves and everything was flying around in the cabin...It wasn't our roughest day out on the water, or even the roughest day I've had out at the 51-mile reef, but it was still rough...It was a relief when we finally got the boat inside the harbor and back into our slip. We were both sore...We had another fun day at sea though, so it was easy to talk about our pains with smiles on our faces."
SAN CARLOS (SONORA) FISHING REPORTS
ALL ARTICLES, REPORTS AND FISHING INFORMATION FOR SAN CARLOS
SAN CARLOS, MEXICO: Bill Molden of San Carlos said, "The spring winds have blown all week, and the fishing has blown the coop." Yellowtail fishing was much slower, with most of the fish caught at Isla San Pedro Nolasco, Molden said. "Some decent catches of bottom fish have been reported at the 5-mile reef, but the drift has been impossible with the full moon extreme tides...Let's hope it warms up and the the pelagics make an early showing this spring." San Carlos weather was in the high-70s, with water temperatures holding in the mid-60s.
MAZATLAN FISHING REPORTS
ALL ARTICLES, REPORTS AND FISHING INFORMATION FOR MAZATLAN
MAZATLAN, MEXICO: Larry Edwards of Cortez Yacht Charters reported on 36 offshore Aries Fleet boats out of Marina el Cid, with a catch including released fish of: 29 striped marlin, 2 sailfish, 8 mako shark, 1 blue shark, and 12 dorado. "Mazatlan had better action this week from the billfish family," Edwards said, "with...a nearly 1 fish per boat average...The luckier boats reported some triple-fish days...Mako shark and dorado counts...are much more than...just a week ago." Inshore fishing tapered off, as boats reported about 15 fish per day, including 6 baqueta, 20 seabass, 20 red snapper, 16 conejos, and other bottom species. Mazatlan fishing area weather was partly cloudy in the low-80s, with water temperatures at 72 degrees inshore and 74 degrees offshore.
MAZATLAN, MEXICO: Tadeo Hernandez of Flota Bibi Fleet said the best offshore fishing location was 15 to 25 miles off the lighthouse. Seven inshore outings produced outstanding catches of baqueta, or gulf coney, to 25 pounds, mojarra, triggerfish, pufferfish, flounder, red snapper, gulf grouper, and permit, caught on shrimp bait and red-white Rapalas, in 75-degree water.
MAZATLAN, MEXICO: Gray Palmeter of Vikings Fleet said fishing picked up last week as several catches of striped marlin and sailfish were made 18 to 25 miles out of Mazatlan. "The mako shark are around, but are a little shy to bite," Palmeter said. "Our light tackle trips we are getting plenty of snapper, triggerfish, a few grouper and many other small game fish for all the family."
MAZATLAN, MEXICO: Bill Heimpel of Star Fleet said fishing at Mazatlan has been better the past 2 weeks as more striped marlin, mako shark to about 150 pounds, and a few yellowfin tuna were caught in water temperatures of about 70 degrees.
PUERTO VALLARTA FISHING REPORTS
ALL ARTICLES, REPORTS AND FISHING INFORMATION FOR PUERTO VALLARTA
PUERTO VALLARTA, MEXICO: Danny Osuna of Marla's Sportfishing reported on 2 outings by the Puerto Vallarta charter boat Marla II, finding very good mixed species fishing with caballito live bait and Diamond Jigs for african pompano, skipjack, bonita, sierra, greenjack, jack crevalle, milkfish, and 3 yellowfin tuna to 50 pounds. Angler Jim Hovergun of Minnesota fished aboard the Marla II at Islas Marietas. Osuna described the trip, "After catching 3 pompanos using live caballitos the bait fishing slowed down...We found a lot of birds working big schools of sardinas and there were a lot of fish feeding there...We ended up having a lot of fun nailing all these fish using only Diamond Jigs."
James and John Toussaint of Montauk, N.Y., caught the 3 yellowfin tuna at Roca Corbeteña, and Osuna said, "We had a nice fishing day...The tunas...were crashing all over but not too much interested to our live caballito bait...As soon as we put the first bait out there in the kite, we had a tuna right away...We caught 3 and lost 3, but the wind died and the fishing was over. We decided to go to another spot and we caught a nice milkfish on a Diamond Jig."
Puerto Vallarta weather had 5 to 8-knot afternoon breezes, 2 to 3-foot swells, and water temperatures of 77 to 80.5 degrees.
IXTAPA ZIHUATANEJO FISHING REPORTS
ALL ARTICLES, REPORTS AND FISHING INFORMATION FOR IXTAPA ZIHUATANEJO
IXTAPA ZIHUATANEJO, MEXICO: Ed Kunze, reporting for Baja On The Fly, said fishing offshore of Ixtapa Zihuatanejo improved somewhat last week as blue water moved from 40 miles out to the 23-mile mark. "But it's still a bit on the slow side," Kunze said. "Lots of sailfish are being raised to the spread, at least 4 or 5 fish a day...There were also plenty of yellowfin tuna and several blue marlin. But with an incredible supply of mackerel and black skipjack tuna keeping the fishes' attention...we honestly believe they are too full to aggressively charge the trolled baits." Ixtapa Zihuatanejo sportfishing area weather was clear in the mid-80s, with water temperatures of 78 to 84 degrees.
IXTAPA ZIHUATANEJO, MEXICO: Paul Phillips of the Fintastic Total Tag & Release Tournament said the large shark caught off Ixtapa Zihuatanejo 2 weeks ago has been identified as a scalloped hammerhead shark. The shark was weighed unofficially at about 418 pounds. Phillips said," I talked with another guy who has been here 15 years and never seen a shark that size in Zihuatanejo." The shark was caught on March 2, 2006, with a trolled dead bait about 12 miles southwest of Zihuatanejo aboard the charter boat Whisky II by angler Ted Clucas, with Capt. Jose "Pepino" Luis Sevrin and mate Chaci, Phillips said.
IXTAPA ZIHUATANEJO, MEXICO: On Sunday, Phillips reported lots of sailfish being spotted, but still slow to bite. "John Lloyd of St. Louis, fishing with Capt. Adan on the Gitana II, managed to get a sail on the fly on Monday after a frustrating week," Phillips said. "Tuna to 50 pounds are around the 12-mile mark, again on a slow bite."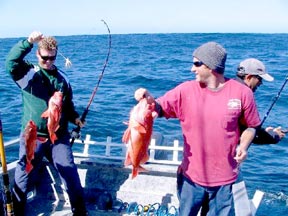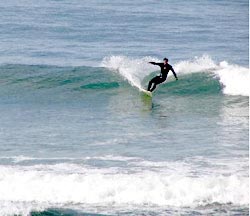 SAN QUINTIN SURF TRIP (right)--Action last week during an overland surf trip by K&M Offshore Sportfishing. PHOTO COURTESY OF KELLY CATIAN.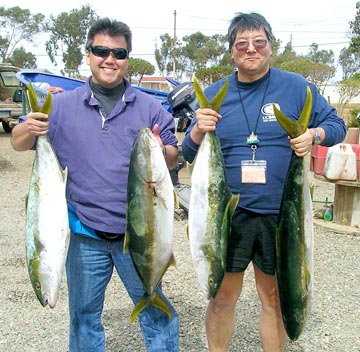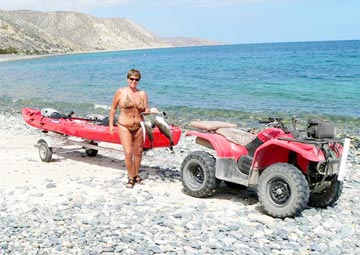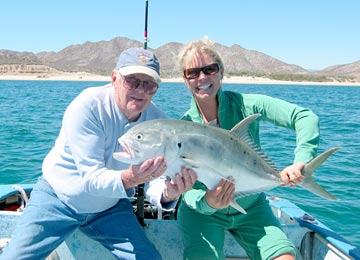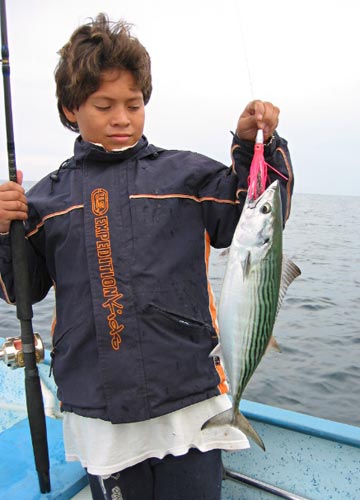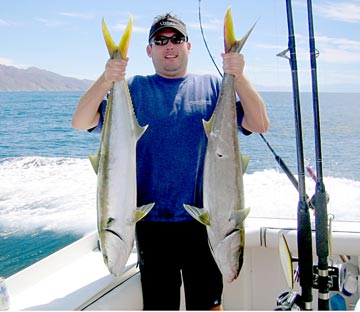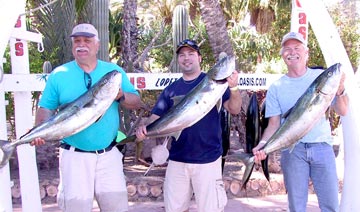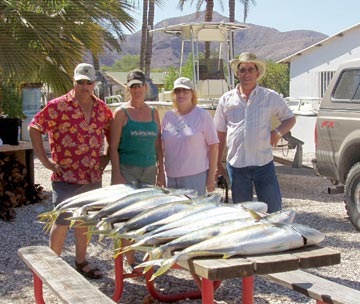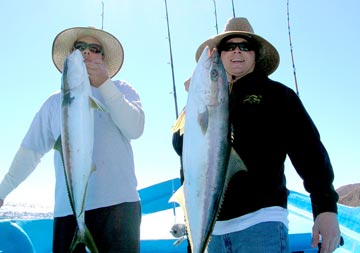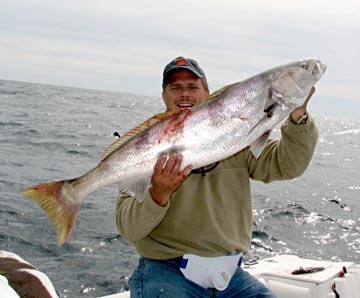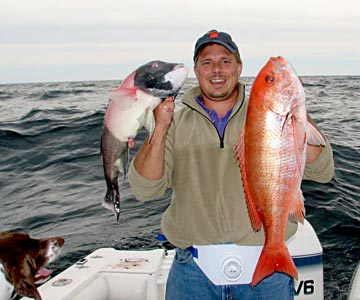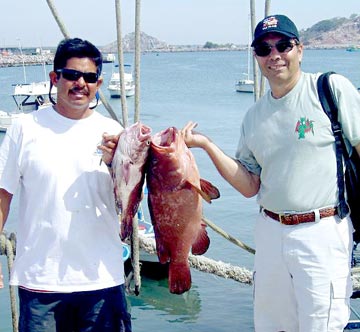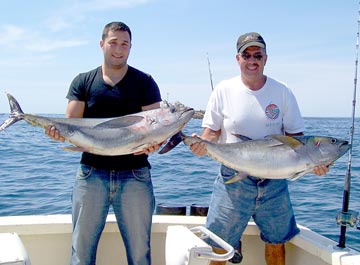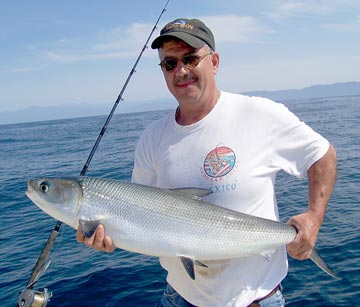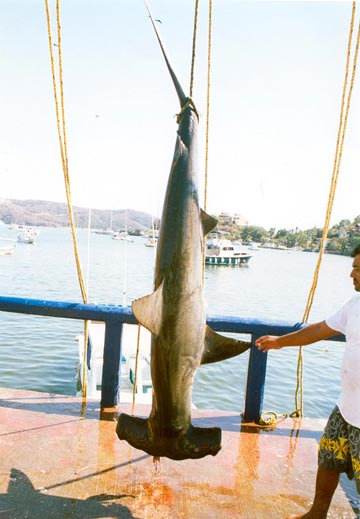 Baja coastal fishing reports and articles.
Ensenada fishing reports and articles.
Puerto Santo Tomas fishing reports and articles.
Erendira fishing reports and articles.
San Quintin fishing reports and articles.
Magdalena Bay fishing reports and articles.
Cabo San Lucas fishing reports and articles.
San Jose del Cabo (Los Cabos) fishing reports and articles.
East Cape fishing reports and articles.
La Paz fishing reports and articles.
Loreto fishing reports and articles.
Mulege fishing reports and articles.
Santa Rosalia fishing reports and articles.
Bahia de los Angeles (L.A. Bay) fishing reports and articles.
San Felipe fishing reports and articles.
Rocky Point (Puerto Penasco) fishing reports and articles.
San Carlos (Sonora) fishing reports and articles .
Mazatlan fishing reports and articles .
Puerto Vallarta fishing reports and articles.
Ixtapa Zihuatanejo fishing reports and articles.
Huatulco fishing reports and articles.
Cancun fishing reports and articles.
Mexico coastal fishing reports and articles.
Mexico Fishing Home Page < Mexico Fishing News Archives < Fishing Report