PARGO AND CABRILLA: A few caught along shore near Punta Colorado. OFFSHORE: With cold green water moving into the area with accompanying strong winds out of the south, the fishing dropped off dramatically. INSHORE: While the offshore action declined the inshore is still cooking. Large jacks, roosters in all sizes and an occasional pompano have been a delight for the flyrodder. BEACH: Punta Arena is the place to be. On the days the wind doesn't blow the fishing is spectacular for large roosters and jacks. QUICK COMMENT: This week is a good example of why we offer such a variety of trips. With the offshore slowing down suddenly we just focused on the inshore from the pontoon and it couldn't be better. Don Sloan, Borrego, Springs Calif., caught four large jacks, one from the pontoon yesterday, and the rest from the beach. Yvonne Graham, Escondido Calif., caught several smaller roosters on a holographic popper from the pontoon boat yesterday as well. Jeff DeBrown and Royal Lupe both from Phoenix Ariz., landed roosters and jacks from the pontoon earlier in the week. Lance Peterson one of our guides on his day off, managed to land his personal best jack for the beach at Punta Arena. Look for me on the beach. -- Gary
EAST CAPE, MEXICO: RANCHO LEONERO, June 10, 2000, Roy Baldwin. WEATHER: Continued great summer weather, with daytime highs in the low 90's, evening lows about 70. Calm mornings and light afternoon SE breezes, with stronger winds during midweek. WATER TEMPERATURE: Variable from 84 to 75 then back to 80. Another great week of fishing, with striped marlin, wahoo, yellowfin, dorado, and roosterfish all active, with lots of bait in the water continuing to hold the gamefish in the area. The striped marlin have moved closer, about 5 miles off La Ribera, with a 190-pound striper taken on Saturday, and 10 blues hooked up this week, with trolled lures (blue/white & green/white) working best. Big dorado from 40 to 60 pounds were located outside, mostly on live caballitos and marlin lures. The wahoo bite has returned, with fish up to 70 pounds taking Marauders, Rapalas, and sardinas from Las Baracas to Los Frailes. The roosterfish bite continues, with big fish to 57 pounds mixed in with jacks, pargo and pompano feeding very aggressively from Leonero to the lighthouse, taking live mullet, caballitos and sardinas, with shore fishermen doing well casting shiny lures during the evening hours. Eric Keisenback of Aliso Viejo, Calif., while fishing 1 day on a Leonero cruiser, took a 190-pound striped marlin, and limits of dorado and tuna.
EAST CAPE, MEXICO: LOS BARRILES, June 10, 2000, Gil Mendiaz, East Cape Sportfishing & Hotel Los Barriles. During our recent trip to the East Cape with Mike and Kevin from the TV show Fisherman's Heaven, we found wide-open fishing on just about everything. Over four days, our group picked off 15 different species of fish, those being striped marlin, dorado, yellowfin tuna, skipjack tuna, pargo, cabrilla, amberjack, jack crevalle, Mexican bonito, white bonito, roosterfish, triggerfish, needlefish, ladyfish, and yellowspot jacks. Large palometa pompano (pacific permit, to 30+ pounds) are also being taken. Variety is the spice of life, and the East Cape delivers! The East Cape is not only seeing a variety of species, but quality fish as well. Dorado are being taken in all sizes o 50+ lbs. from the shark buoys, with big bulls also plentiful on the troll, especially east of Pulmo. The dolphins are notably absent, but a mixed school of yellowfin has been holding tight in the Pulmo area, with fish ranging from 10-40 lbs. If you find tuna boiling on the surface, use a little lead to drop a sardina down and target the larger yellowfin. The tuna bite has been wide open in the mornings, with most boats getting limits before noon. Striped marlin are everywhere, and eagerly eating large baits. The stripers are large this year, averaging 140-150 lbs. Most boats trolling offshore are getting 1-2 stripers per day. Roosterfish to 50 lbs. are being taken from boats, with smaller fish being caught from shore. The pompanos and jacks are very active in the shallow water, as are pargo to 20+ lbs. The larger pargo are tough to get in the shallows, as they can get into a hole and break you off on the coral. Use heavier gear and a stiff drag if you want to target these guys. Sea surface temperature maps have been somewhat variable, showing cooling inshore, probably due to the sudeste (southeast winds) that have been popping up in the afternoon. Warm water continues to hold offshore, though, and is easily accessible by a fast cruiser. These winds are generating choppy seas late in the day, but not so much as to inhibit the fishing. The bait situation is excellent, with plenty of sardinas and large baracutas (green jacks) available. A variety of colors is working for trolling, though petrolero seems to be getting the most bites.
A final note on the yellowspot jacks: these colorful fish, known locally as pompanos aletas azul, have silvery-blue bodies with gold spots and neon blue fins (see attached picture). They are a rare species for this area, and are formimg schools in the shallows for mating. Fishing these guys can be frustrating: oftentimes, several fish will surround your bait and bump it around before swimming off. Be patient: sooner or later one of them will come back and eat, and once this happens, the other baits in the water usually get hit as well. These fish are fantastic fighters! We were fishing 40-lb. test on two speed 16S Internationals, and 10-15 lb. yellowspots were peeling off line like a wahoo! Great fun. Stan Weise from Long Beach, CA and three friends came down to fish several days out of the Hotel Los Barriles. They had reserved the boat for twilight fishing on the day of their arrival, but the other three guys elected to stick at the bar while Stan headed out. Stan made a wise choice: in four hours of fishing the shark buoys, he nailed six (6) dorado of 40+ lbs. Needless to say, Stan's buddies made it on the boat for the subsequent days, and they cleaned up on more dorado and tuna.
EAST CAPE, MEXICO: BUENA VISTA, June 4, 2000, Axel Valdez, Hotel Buenavista Beach Resort. This past week we really had our hands full the whole week. Just to give you an idea, we held the National Beauty Contest semifinal (all 32 state representative girls, ohh!) And their moms... Since they were so many and we were full, all the East Cape hotels helped us to accommodate them). We also had a beautiful wedding on the beach. After all, everything came out great and we had a lot of fun. My brother, the staff and I worked together as team to make everything work.
Fish report, April 29th - June 4th, 2000: Weather Low 80´s during the night and mid 90´s during the day. Even in the last 2 days the thermometer went up to the high 90´s. Water Temperature: 77-80 degrees. Fishing Spots and Distance: Early week and late week still very alike last week. Out in front of the resort (about 25-35 miles), and all the way south to the Cabo Pulmo area (20-40 miles). During midweek our captains were finding the marlin very close in the 5-10 miles range, this only happened two days.
Successful lures: The lures vary, the chivato (orange and yellow), purple with black, green and black. Bait Used: Sardine for the dorado, tuna and inshore fish. The live bait for the billfish still the same, Mexican barracuta, radadillo, jurelito. Boats out: 91. Swordfish 1; Blue Marlin 1; Striped Marlin 64 (49 released); Sailfish 2 (2 released); Dorado 83 (7 released); Tuna 116 (4 released); Roosterfish 25 (25 released); Mako Shark 2 (2 released); Skip Jack 26 (13 released); Bass/Grouper 1 (1 released); Jack Crevalle 3 (2 released); Amberjack 9 (3 released); Red Snapper 20 (4 released); Needlefish 25 (25 released); Pompano 14 (0 released); Trigger fish 19 (0 released); Sierra 3 (2 released).
Highlights of the Week: A 150-pound swordfish and a 270-pound blue marlin. Also several dorado over 50 lbs. Besides the small tuna, they found some large tuna north (close to Cerralvo Island). Inshore huge bait balls in La Ribera area. Catch of the Week: June 2nd, 2000; Mike Carnes and Rich Griger; Omaha, Nebraska; Sword Fish (150 lbs), Out in front of La Rivera about 20 miles. Barracuta on a 60 lbs test and it took them about 3 hours and even Jose fought the fish. Boat, Captain and Deckhand: Eclipse, Jesus Araiza and Jose "Cucho".
In other mainland Mexico and Baja fishing action this week:
LORETO FISHING REPORTS
ALL ARTICLES, REPORTS AND FISHING INFORMATION FOR LORETO
LORETO, MEXICO: June 4, 2000, Pam Bolles, Baja Big Fish Company. WEATHER: low 80's to 100+. Humidity 40-70%. High scattered clouds from a system a few days ago but clear yesterday and today. Prevailing winds from the south, very light. Seas moderately rough on Thursday and Friday but have improved yesterday and today and now they are glassy even far out. WATER TEMPERATURE: 75-82 offshore, and 82 inshore. We are now in the summer season. Prevailing winds are from the south and the air temperatures will range from over 100 during the day to 80 during the coolest part of the night. Our humidity will range from 45-70% and sometimes even higher. This climate will remain with us until about mid October when we'll transition into the winter season. Yes, this is hot weather, but with hot weather comes hot fishing. This season is proving to be a good one so enjoy it. Offshore Dorado: The dorado are really on the hot bite since the waters surface has lain down. Easy limits of fish from 15 to over 40 pounds. They're hitting live mackerel but they're more readily taking cut squid.
The fish are coming in off the north and east sides of Isla Carmen. From 5-25 miles out. Offshore Billfish: There are lots of marlin and sailfish being caught right now. Large stripers and small blues, both in the 100-300 pound range are being taken with flylined live bait, but trolled feathers are even more effective. Sailfish are coming in with equal frequency and with the same methods. They are catching them while searching for dorado, so they are in various locations all around our area. We encourage the catch and release of billfish whenever possible. Yellowfin Tuna: A large school of Yellowfin was located 22 miles NNE of Isla Carmen's Punta Lobos on Friday. One of my captains had the school all to himself and it produced football-sized tuna. He ventured in the opposite direction from all of the other pangas and also landed several nice dorado and a large marlin. I haven't heard of anymore being reported though, but that's what can happen if you take a risk and don't follow the rest of the pack. Offshore Yellowtail: None reported, probably because the dorado fishing is so good. Other Species: There are plenty of nice sized cabrilla over the deepwater reefs off the islands and points to our north, as well as some nice pargo. The cabrilla are biting on jigs of various colors--try chrome, chrome/blue, white, white/blue, scrambled egg.
They're also taking weighted live or dead bait. Cabrilla are coming in from 5-20 pounds and up. Bait: You can readily buy bait off the marina and off of the beaches in front of the Hotels La Pinta and Oasis. Live bait is $1 each for live mackerel and caballitos. There are plenty of squid that you can catch before you head out to the fish. The squid are taking large squid jigs, or regular iron jigs of any color. Treble or single hook. I would suggest you buy some macks, catch some squid and have your trolling feathers handy for the day. Inshore Fishing: The light tackle inshore bite is very good right now but most of the anglers attention has not been focused on it. If you're coming down soon, don't hesitate to bring a light spinning or bass rod. You'll have a blast catching triggerfish, needlefish, pompano, pargo, cabrilla, pinto bass, roosterfish, jack crevalle and other species. Hell, you don't even need a boat to get into this bite--just walk the beaches or fish off rocky points such as the breakwalls off town, the jetty off the Hotel Oasis, and the point to the north of the Eden Resort as well as the jetties off the Eden Rersort. Loreto Marina : Fish this location on your last day here if you're not going out fishing, or in the evenings... There's structure just a few yards off the east-facing marina breakwall that holds a wide variety of species. The bite is best between 6 a.m. and 9 a.m., and again between 7:30 p.m. until dark. The locals are lining up there once again to catch their limits. The most common species you will see will be the barracuda, mackerel and bigeye, roosterfish, giant needlefish, largo, cabrilla, pargo, and jack crevalle.
BAHIA DE LOS ANGELES (L.A. BAY) FISHING REPORTS
ALL ARTICLES, REPORTS AND FISHING INFORMATION FOR BAHIA DE LOS ANGELES
BAHIA DE LOS ANGELES, MEXICO: BAHIA DE LOS ANGLES, June 6, 2000, Abraham Vazquez, Camp Gecko. WEATHER: 96-68 degrees air temperature. Winds out of the south for a few days, with the appearance of heavy fog. The rest of the week there has been no wind at all. Relative humidity variable from 35% to 85%. Seas moderate to calm. WATER TEMPERATURE: 74 inside the bay and as low as 63 in areas outsdie. Fishing has gotten better as far as the yellowtail. But during the last week it has been a fishing roller coaster. Some days you catch 15 fish and some others one or two if you are lucky. The leopard grouper bite has remained good since they are hanging out at the shallow reefs feeding on the abundant schools of baitfish. Most of the yellowtail being caught are 12-20 pounds, but there is still a school of big ones (40 pounds and over) staying in the Racito Island area. Mixed into the school there are also white seabass up to 60 pounds. Needless to say that since this is a veryk shallow reef, 20-30 feet, landing these creatures is close to impossible. Catches have increased the last week but it is by no means a wide open bite. Yet, that is what we will soon have. The bait is still everywhere and easy to make, mostly mackerel. The Vagabundos tournament is coming up soon. Road conditions improivng. Still not too good, but fair. The gray whales are finally migrating out, and the first whale sharks have appeared. If any radical changes occur, I will send a report immediately, for signs say that all hell will break loose soon.
BAHIA DE LOS ANGELES, MEXICO: Results of last week's Guillermo's Yellowtail Tournament: Two categories were allowed, yellowtail and other fish (white seabass and grouper). Only yellowtail cold compete for the cash prize, but all winners got trophies. There were 30 entrants in the tournament.
Results for May 27th: YELLOWTAIL: 1st, Ramiro Aruayo, 35.2 pounds, Pedro. 2nd, Brent Oldham, 34.2 pounds, Igor. 3rd, Damon Will, 21.0 pounds, N/A. OTHER FISH: 1st, Ceferino Ahuero, 17.5 pounds, Juan. 2nd, David Enkins, 14.2 pounds, Saloman. 3rd, Greg Klehl, 12.7 pounds, Payaso.
Results for May 28th: YELLOWTAIL: 1st, Harry Beckous, 37.1 pounds, Igor. 2nd, Hector Verdugo, 21.7 pounds, Pedro. 3rd, Ceferino Ahuero, 21.0 pounds, Juan. OTHER FISH: 1st, Harry Beckous, 36.0 pounds, Igor. 2nd, Brent Oldham, 31.0 pounds, Igor. 3rd, Paul Oho, 12.9 pounds, N/A.
Overall Prize Winners: Harry Beckous, $904.00; Ramiro Aruayo, $348.00; Brent Oldham, $139.00.
SAN FELIPE FISHING REPORTS
ALL ARTICLES, REPORTS AND FISHING INFORMATION FOR SAN FELIPE
SAN FELIPE, MEXICO: MIDRIFF ISLANDS, June 9, 2000, Gustavo Velez, 6-day trip aboard Baja Sportfishing Inc.'s, mothership, Erik. The last two days of the trip were very windy, and we were not able to fish the final morning at the Golden Reef. However, we had very good fishing at San Francisquito, Isla San Lorenzo, Isla San Esteban, and Isla Angel de la Guarda , especially at Refugio. Fish counts for the trip included: 176 yellowtail to 48 pounds; full limits of cabrilla; 3 grouper to 48 pounds; 8 sheephead; 93 good sized squid; 98 miscellaneous. On our previous week's trip to the same areas, were were surprized to catch 29 dorado, very rare this early in the season. We feel that this indicates a good season coming up for yellowfin tuna in August and September. The dorado were caught at Isla San Pedro Martir, a long run made possible by the relatively high cruising speed of the Erik. Other fish caught on this trip included: 96 yellowtail to 35 pounds; full limits of cabrilla to 15 pounds; 8 grouper to 45 pounds; 97 giant squid; 192 miscellaneous.
SAN FELIPE, MEXICO: MIDRIFF ISLANDS, June 8, 2000, Bob Castellon, 6-day trip aboard Sea of Cortez Sportfishing's, mothership, Celia Angelina. WEATHER: 90's. WATER TEMPERATURE: 64-67. This trip was led by Clarence Beeker of Upland, Calif, and it yielded plenty of fish. Incidentally, this was a birthday trip for Nick Favara, 80 years old. We fished Roca Partida, Isla San Esteban (which yielded the most cabrilla), San Francisquito, Punta Remedios, and the Enchanted Islands. Fish count for this trip: 412 cabrilla to 21 pounds; 85 yellowtail to 29 pounds; 192 miscellaneous; 1 grouper of 38 pounds; 65 giant squid.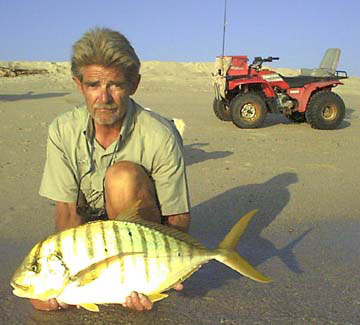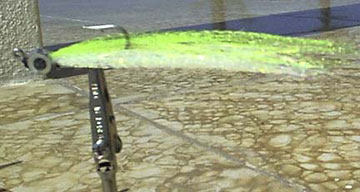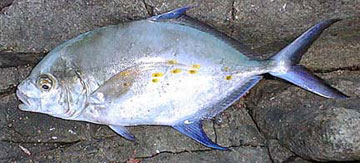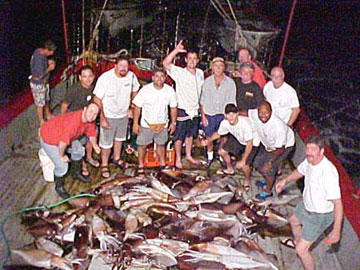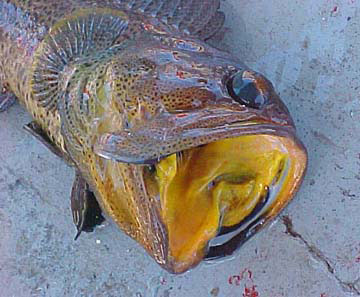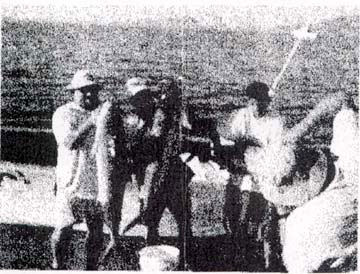 Baja coastal fishing reports and articles.
Ensenada fishing reports and articles.
Puerto Santo Tomas fishing reports and articles.
Erendira fishing reports and articles.
San Quintin fishing reports and articles.
Magdalena Bay fishing reports and articles.
Cabo San Lucas fishing reports and articles.
San Jose del Cabo (Los Cabos) fishing reports and articles.
East Cape fishing reports and articles.
La Paz fishing reports and articles.
Loreto fishing reports and articles.
Mulege fishing reports and articles.
Santa Rosalia fishing reports and articles.
Bahia de los Angeles (L.A. Bay) fishing reports and articles.
San Felipe fishing reports and articles.
Rocky Point (Puerto Penasco) fishing reports and articles.
San Carlos (Sonora) fishing reports and articles .
Mazatlan fishing reports and articles .
Puerto Vallarta fishing reports and articles.
Ixtapa Zihuatanejo fishing reports and articles.
Huatulco fishing reports and articles.
Cancun fishing reports and articles.
Mexico coastal fishing reports and articles.
Mexico Fishing Home Page < Mexico Fishing News Archives < Fishing Report